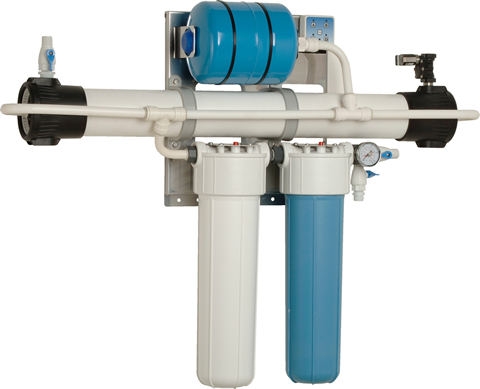 The VZN 441H-T5 system provides better tasting, scale-reducing, filtered water throughout the entire house with a flow rate of up to 13 GPM, which is sufficient for most homes.
The VZN systems use a self-cleaning ultra filter to reduce almost all particles as small as .015 microns, substantially reducing microbiological contaminants up to 99.999%. This provides healthy drinking water.
The ultrafiltration filter will also help in reducing tastes and odors in the water. In concert with its carbon cartridge, you will have even better tasting water.
For scale reduction on pipes, fixtures, and appliances, our T5 Template-Assisted-Crystallization (TAC) cartridge, which uses a unique technology to convert hard, dissolved minerals into harmless, inactive microscopic crystals, will prevent scale buildup on pipes, fixtures, and appliances.
A Smart Controller monitors water usage, remaining filter life, and controls automatic self-cleaning for a longer filter life.
This system is approved by McDonald's and Burger King for use in their restaurants.
FEATURES AND BENEFITS:
High quality filtered water throughout the house
Healthy drinking water at every faucet
Scale reduction on pipes, fixtures, and appliances
Dishes and clothes cleaned with filtered water
Shower and bathe with clean UF filtered water
No harmful water running through appliances
Tasteless, odorless water for all food preparation
Low 10W power consumption
5-year life on TAC and UF filter