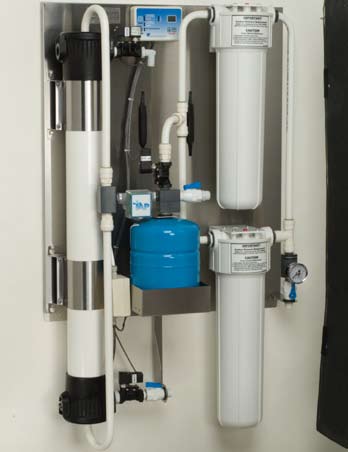 VIZION offers systems that ensure the highest quality ingredient water at the lowest cost of ownership for premium water filtration.
The innovative TAP systems use self-cleaning ultra filtration ahead of low-cost carbon cartridges to separate mechanical filtration from taste and odor reduction. This self-cleaning
and separation ensures the full stated life expectancy of the carbon cartridges and provides them with mechanically pure water, which eliminates premature clogging.
The SMART Controller on the TAP systems displays the remaining life of the ultra filtration and carbon cartridges, as well as notifies you when replacement cartridges are needed.
The SMART Controller also stores up to three years of water-use data that can be downloaded
to a computer.
NOTE: TAC systems available for scale reduction.
Features and benefits:
Separation of mechanical filtration from taste and odor reduction ensures a long time between cartridge changes.
Ensures only one low-cost carbon cartridge change per year.
Self-cleaning capabilities ensure low maintenance costs.
.015 micron ultra filtration removes particles 33 times finer than the next best filtration system, ensuring consistent high quality water.
SMART controller provides detailed water-use information and notifications for replacing cartridges.
Several system configurations available to meet your needs.