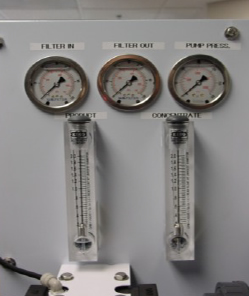 Our light commercial DRO Series reverse osmosis systems start at 150gpd up to 1000gpd. The DRO-150, 350, 500, & 1,000 are built on open stainless steel frames with horizontally mounted elements. These reverse osmosis systems utilize a rotary vane pump with ball bearing pump motor, two pre-filter stages, two pre-treatment pressure gauges, an operating pressure gauge, adjustable drain and re-circulation valves with color coded and lockable settings, low pressure safety switch, and durable brass high-pressure fittings.
The DRO-500SS reverse osmosis system is enclosed in a Polished Stainless Steel Cabinet which is designed for use in harsh environments, food service applications, or in areas where tampering is a possibility.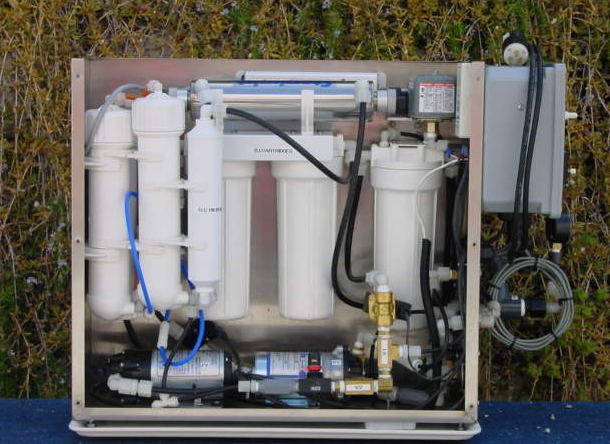 Commercial and industrial reverse osmosis and water treatment systems are computer-designed utilizing the latest updated element data from all major membrane manufacturers. This ensures maximum recovery and optimum water quality while minimizing capital and operating costs. We provide expected water quality information along with pump operating cost and projections on future production and water quality. In addition, we provide custom-built pre-treatment as required to provide the most economical and environmentally friendly operation of the entire reverse osmosis system.
We specialize in building custom reverse osmosis, water treatment systems, or modifying one of our standard products to exactly meet our customer's requirements.
Our reverse osmosis and water treatment products are marketed in the U.S. as well as worldwide. We have water purity systems in virtually every state as well as in Japan, China, Malaysia, South America, Russia, and most European countries.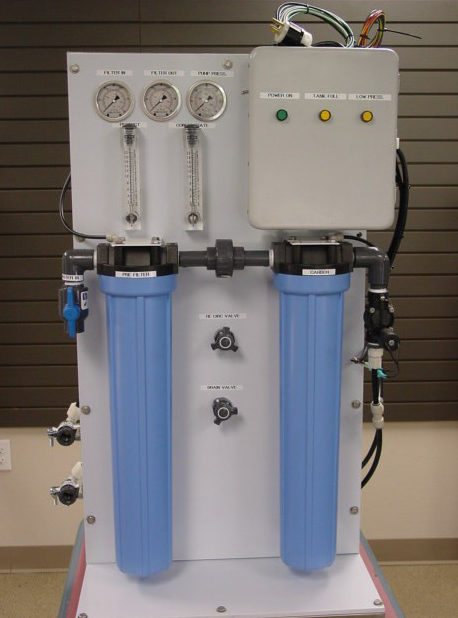 | Part # | GPD | Operating Pressure | Motor HP | Voltage |
| --- | --- | --- | --- | --- |
| DR0-150 | 150 | 150 | 0.25 | 120/240 |
| DRO-350 | 350 | 150 | 0.25 | 120/240 |
| DR0-500 | 500 | 150 | 0.33 | 120/240 |
| DR0-750 | 750 | 150 | 0.5 | 120/240 |
| DRO-500 | 500 | 150 | 0.33 | 120/240 |
| DRO-1000 | 1,000 | 150 | 0.5 | 120/240 |
Light Commercial DRO-1000 – Series Features & Options
| Standard Features (1) indicates an available Option | 150 | 350 | 500 | 1,000 | 500SS |
| --- | --- | --- | --- | --- | --- |
| Stainless Steel Frame | Yes | Yes | Yes | Yes | |
| Stainless Steel Cabinet | | | | | Yes |
| Rotary Vane Bronze Pump | Yes | Yes | Yes | Yes | Yes |
| Liquid-Filled Hi-Pressure Gauge | Yes | Yes | Yes | Yes | Yes |
| 5 Micron Prefilter | Yes | Yes | Yes | Yes | Yes |
| Carbon Prefilter | Yes | Yes | Yes | Yes | Yes |
| Prefilter Pressure Gauge (2) | Yes | Yes | Yes | Yes | Yes |
| Pressure Relief Valve | (1) | (1) | (1) | (1) | |
| Prefilter Differential Indicator | (1) | (1) | (1) | (1) | |
| Low Pressure Switch | Yes | Yes | Yes | Yes | Yes |
| Pressure Switch | Yes | Yes | Yes | Yes | Yes |
| Float Switch – Unit has Switch Contact | (1) | (1) | (1) | (1) | (1) |
| Waste & Recirculation Valves | Yes | Yes | Yes | Yes | Yes |
| On/Off Switch | (1) | (1) | (1) | (1) | Yes |
| Carbon Post Filter | (1) | (1) | (1) | (1) | (1) |
| Power-On Light | | | | | Yes |
| Fiberglass Element Housing | | | | | Yes |
| PVC Element Housing(s) | Yes | Yes | Yes | Yes | |
| Digital TDS Meter | (1) | (1) | (1) | (1) | (1) |
OPTIONS:
High pressure safety switch
Dual level float switch for atmospheric tank
Permeate TDS monitor
ESF catalytic/magnetic scale prevention device
Stainless steel element vessels