Model DRO-100 Reverse Osmosis
7300 Gallons Per Year Water Savings
Exclusive 4 Stages for Maximum Hydration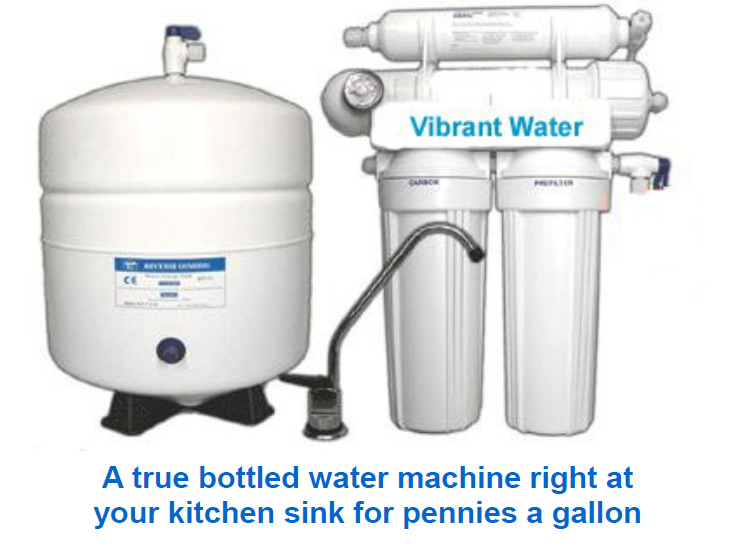 Water Saving One to One Purified Water Production Compared to up to 5 to 1 from Most Warehouse Systems.
Produces up to 100 Gallons Per Day.
5 Micron Pre-Filter Removes Suspended Solids.
KDF & Carbon Filter Removes Chlorine & Heavy Metals.
100 Gallons Per Day Membrane Removes 90% of Solids.
Coconut Shell Carbon Post Filter for Flavor Enhancement
3.2 Gallon Storage Tank
DRINK TO YOUR HEALTH!!
You have heard and read this before. It has almost become a cliché, but do you know the reasons that every person should drink at least eight glasses of water every single day? It's more than fashionable advice.
Look at the basic facts about water and the body. Water makes up approximately 85% of your brain, 83% of your blood and 70% of your muscle mass. Every cell in your body needs water to live. Water helps remove toxins from the air we breathe, the food we eat and the chemicals used in the various products we use on our skin and hair. Water also cushions your joints, carries oxygen and nutrients to your cells and helps regulate your body temperature. Proper hydration is essential for good living. Why not consider a DRO-100 Reverse Osmosis Bottled Water Machine to provide your family with safe, healthy and great tasting water?
Water Quality Meter
Monitors Water Quality on Demand
Switch to Compare Feed to Product
Easy to Read Digital Read Out
You Will Always Know How Your System is Performing
Filtered Air Injection
Increased Hydration
Enhanced Flavor
Pressure Gauge
Monitors Pre-Filter Quality.
Lowered Pressure Indicates Filter Change Needed
3.2 Gal. Space Saver Storage Tank
Great for Limited Space Under Sinks