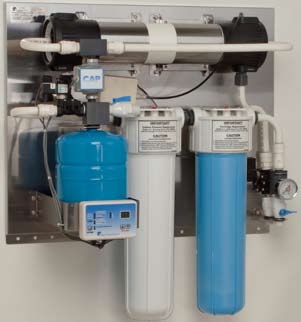 VIZION offers systems that assure the highest quality ingredient water at the lowest cost of ownership for premium water filtration.
The CAP systems combine that assurance with scale-reducing technology. These systems use self-cleaning ultra filtration ahead of low-cost carbon cartridges to separate mechanical filtration from taste and odor reduction. These technologies are then followed by template-assisted crystallization to protect your equipment against lime scale buildup. The CAP systems come with two controller options: a SMART Controller and a Pulse Controller. The SMART Controller notifies you when replacement cartridges are needed and stores up to three years of water-use data that can be downloaded to a computer.
The Pulse Controller monitors the cleaning of the ultra filtration cartridge.
Features and benefits:
Scale-reducing technology assures reduced service on equipment by decreasing lime scale by 96-98%.
Separation of mechanical filtration from taste and odor reduction assures long time between cartridge changes.
Assures only one low-cost carbon cartridge change per year.
Self-cleaning capabilities assure low maintenance costs.
.015 micron ultra filtration removes particles 33 times finer than the next best filtration system, assuring consistent high quality water.
Maintains good water minerals while adding no chemicals.